Move over, Apex and Nova, there is a new Action Launcher for Android in town
20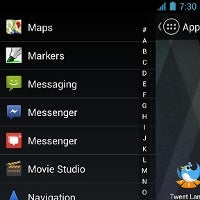 We can never get tired of Android launchers, and days when we have brand new kids on the block are always exciting. Friday was one such day, as a brand spanking new idea appeared in the Play Store ready to be taken for a spin.
The Action Launcher is done by Chris Lacy, the creator of Tweet Lanes, which is a merit alone, and introduces something the developer calls Covers, essentially souped-up folders. You tap the Contacts folder once, for instance, and the app gets launched, tap twice, and your favorite contacts appear, simple idea with a lot of practical applications like this one. The way it works in practice is a bit hit-or-miss, and the dev admits there's still work to be done with Covers.
The other interesting addition is that the app drawer can be called by swiping your finger from the side of the screen, instead of delving into endless pages with app grids. Action Launcher is $3.99, and you can take it for a spin from the source link below. The great thing is that if you are using another launcher, like Apex or Nova, your homescreen layout will be kept intact and transferred to Action Launcher, so you won't have to rearrange things again.