Motorola Moto E hands-on: affordable and unremarkable
2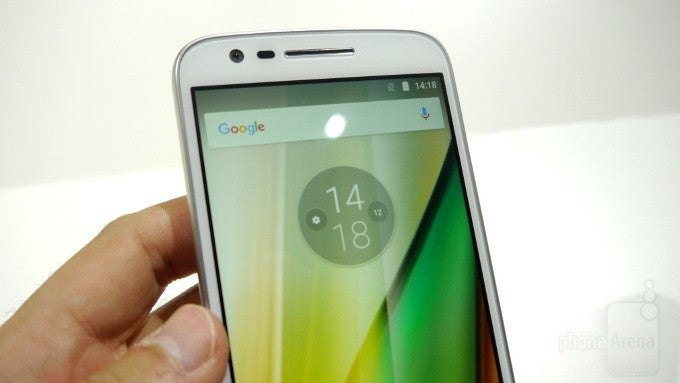 It's been nearly two months since Lenovo unveiled its new Motorola Moto E. The third (2016) generation of the phone comes to succeed previous Moto E phones that were sold in the U.S. at rock bottom prices for those wanting a phone that's even cheaper than the Moto G.
However, unlike with other Moto E phones, there has been practically no buzz around the Moto E 2016 and the phone is not even on sale in the United States yet (and it's possible it won't make it to the US this time).
That's why we were surprised to see it for the first time in public at IFA 2016 and eager to explore it in more detail. Design-wise, the Moto E 2016 is a phone with a textured plastic back and nothing remarkable save for two very noticeable grills up front: one for the speaker, and the other for the earpiece. The bezel is also fairly minimal, which is nice for such an affordable device. Despite being a rather generic plastic rectangle, the Moto E still feels fairly well built, with no screeky parts.
Dumbed down, the Moto E looks utterly unremarkable
Under the hood, the Moto E (2016) is powered by the MediaTek MT6735p system chip, a super affordable chip. We've also seen it listed with the Qualcomm Snapdragon 410 system chip in some markets, so there will likely be two versions of the device. The phone has a splash-resistant design that makes it more safe to use when you're in the rain, and it also supports 4G LTE connectivity. On its back, there is a prominent, 8MP camera module with a single LED flash, while up front there's a 5MP camera. The last highlight that Lenovo mentions is an all-day battery.
All in all, the Moto E series seems to come to its absolute worst in the Moto E, which is not remarkable in any way. Lenovo seems to have effectively put the kibosh on the Moto E series, as it's hard to see how will this underadvertized and mundane phone can catch the attention of buyers that have rich choice these days.