Motorola Defy getting Android 2.2 officially in the Spring
1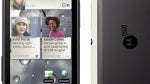 The German subsidiary of O2 has leaked via Twitter that the rugged Motorola Defy will be updated to Android 2.2 in Q1 of 2011. This is certainly great news if you have been waiting for someone to confirm that Motorola Defy won't be left out in the open when it comes to the update that brings Adobe Flash, tethering and other goodies, before you head to the store to pick it up, and then hit the trails.
Unfortunately, Motorola's own roadmap page for Android updates is listing Q2 2011 for Froyo coming to the European version, while T-Mobile's one is not on the list at all. With the pace that the industry is moving, in the April-June 2011 period there might already be another rugged handset, or even Motorola Defy 2 that will run an even newer version of Android, so we can't really justify what's taking Motorola so long (we hope it's not MOTOBLUR). We know there are more important handsets that are still waiting for their serving of Froyo
, but that's hardly an excuse, and one of the most annoying facts about Android - updates come with a glacial pace, and at the whim of the manufacturer. Unfortunately, there is still no thread at Xda-devs about it, otherwise we wouldn't be too worried waiting on Motorola for the update to Froyo.
source:
Motorola
via
Engadget
Recommended Stories