Motorola DEFY Review
24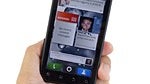 Introduction:
Motorola's Android beginning on T-Mobile goes way back to the
CLIQ
which was launched well over a year ago and was consequently followed with the
CLIQ XT
last spring – with the
CHARM
being the most recent addition. In all honesty, those devices lacked the charisma and appeal characteristic to Verizon's line of DROID models. Now that we're heading into the busy fall season, Motorola is looking to grace T-Mobile's lineup with a handset that will encompass a special niche market to strikingly separate it from anything else previously seen. Even though it might pack some features that might appear as novel to some people, the
Motorola DEFY MB525
has some interesting items hidden in tow that just might enable it to defy the odds.
The package contains:
Motorola DEFY
microUSB cable
Wall Charger
3.5mm Stereo Headset
Start Guide
Terms & Conditions
2GB microSD card
Design:
Positioned to be a rugged type of handset, it's actually the second Android to follow after the
Motorola i1
for Sprint and Boost Mobile. However, it decides to follow a completely alternate path for its construction, as its exterior is mostly defined to resist water as opposed to drops. The two-tone hard plastic shell feels durable enough, but we'd suspect that it would still blemish under the most extreme conditions if it were dropped onto the hard pavement. Instead, it seems more capable of tackling water head on since the soft touch feel gives way to the illusion of it donning some kind of neoprene suit. In fact, it aids it in repelling dirt and smudges which ultimately keeps it looking clean all the time. The minimalistic design might make it seem quaint at first, but the screws outlining the sides of the handset will make you think otherwise. Additionally, it feels rather normal sized (0.53" thick) and in weight (4.16 oz) to make it feel well constructed all around. It sure ain't all that pretty, but when you're trying to beat the elements, it's more than justifiable.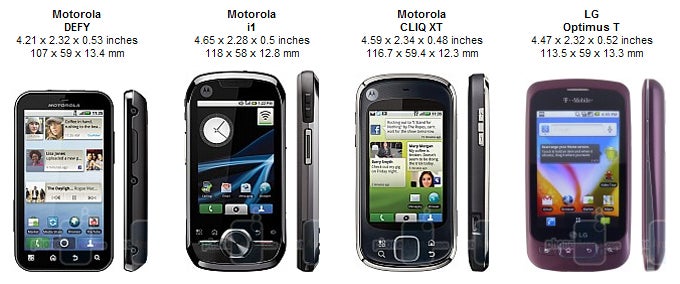 You can compare the Motorola DEFY with many other phones using our
Size Visualization Tool
.
Easily one of the most surprising things to find on this rugged device is an equipped and detailed
3.7" TFT display
which packs a resolution of 480 x 854 pixels – just like what we see on the
DROID
and
DROID 2
. It has a high enough pixel density to enable even the smallest of text to look sharp while also producing some lush and deep looking colors to make your eyes melt. Furthermore, it offers some great viewing angles to make it even radiate so magnificently even under the direct line of the sun. As for responsiveness, it manages to register all of our presses and swipes to the teeth without much fault. In keeping it safe from the external forces, it employs a gorilla glass display to combat against any baddies that might want to taint its luster.
Fittingly, we find the usual set of
capacitive buttons
directly below the display – these include the menu, home, back, and search keys. Although they're responsive to the touch, we still had a habit of accidentally pressing them since they're placed very close to the edge of the phone.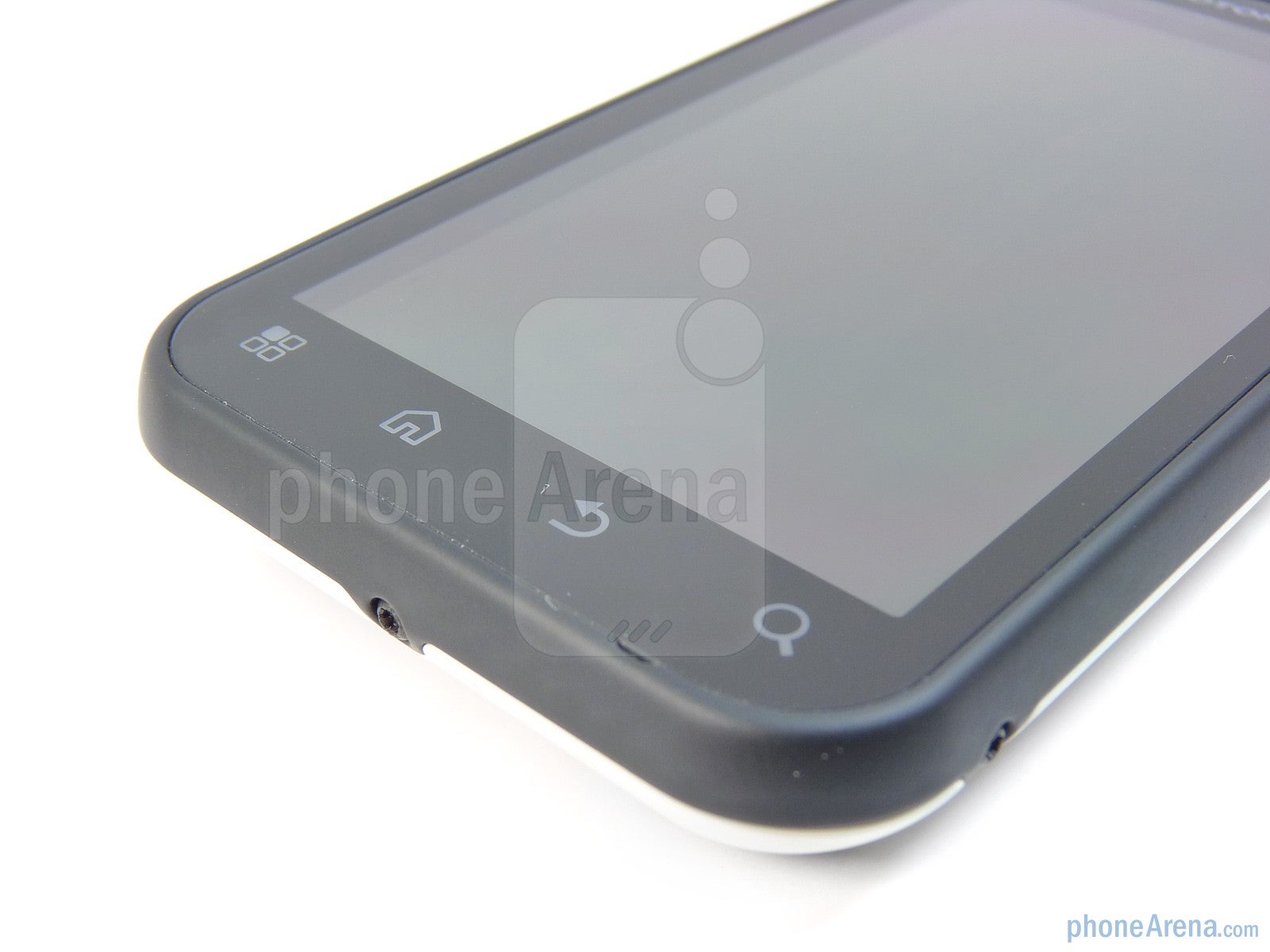 Capacitive buttons
Since it's so careful about keeping water from entering its innards, the microUSB port is safely hidden away under a flap that makes sure there is an air tight feel. The same can be said about the 3.5mm headset jack
on the top
side which is plugged by a plastic cover. As for the volume rocker and dedicated power button, they're slightly raised to allow our fingers to distinctly feel them out while offering some solid feedback when pressed.
In the rear, we find a 5-megapixel auto-focus camera with LED flash positioned in their usual spot as it also appears to be well protected. Towards the bottom edge of the rear panel, there is a small opening to reveal the area for the speakerphone. Finally, there is a latch which keeps the rear cover placed tightly onto the handset to keep out any debris or water from getting to the inside. Once it's removed, you'll have access to the SIM card slot, battery, and microSD card slot – the latter of which is hidden beneath the battery.
Anticipation began to cloud our minds as we thought about the affects of the handset coming into contact with water – even more if it were completely submerged. Surprisingly, water seemingly bounces off the handset and didn't necessarily stick as we poured some on it. While playing a song, we did notice that the audio is reduced in volume as soon as water came into contact with the earpiece. However, we were thoroughly impressed at how it handles in being completely submerged. Continuing to play a song, we dunked the handset completely under 2 inches of water. To our amazement, you can still faintly hear it dishing out tunes as it laid flat at the bottom – and we left it there for a good minute. Impressively, water dripped away so quickly that it made the handset look as if it were never dipped at all.
Motorola DEFY 360-degree View: