Motorola DROID XYBOARD tablets are now official, coming to Verizon this month
4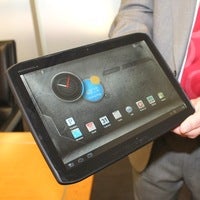 Today, Verizon Wireless officially announced that it will be adding two LTE-enabled tablets to its lineup – the Motorola DROID XYBOARD 10.1 and DROID XYBOARD 8.2. Both devices are rebranded versions of the
Motorola XOOM 2
and
XOOM 2 Media Edition
respectively, and are pretty much identical to their European counterparts, save for the LTE radio.
Both tablets are slimmer and lighter than their predecessor, the original
Motorola XOOM
, and run Android
3.2
Honeycomb out of the box. In terms of hardware, the tablets are pretty similar to one another as they are both powered by a 1.2GHz dual-core processor backed up by a gig of RAM and have a pair of cameras – a 5-megapixel one on the back and a
1.3
-megapixel front-facing shooter. Besides, both of them offer high-definition displays reinforced with Corning Gorilla Glass and protected by a water-repellent coating.
However, there are differences that set them apart. While the DROID XYBOARD 10.1 is tailored with business customers in mind, which explains the high-precision stylus it comes with, the DROID XYBOARD 8.2 is a media-centric device that offers
2.1
virtual surround sound.
Verizon confirmed that the two Motorola DROID XYBOARD models will be available both online and in its retail stores later this month. Unfortunately, an exact release date has not been given,
but if the rumors are on the right track
, we might see the devices landing on Verizon's shelves no later than December 8.
source: Verizon Wireless
BASKING RIDGE, NJ and LIBERTYVILLE, IL
— Motorola Mobility, Inc. (NYSE: MMI) and Verizon Wireless today introduced two new additions to the DROID family to deliver new and unparalleled experiences on America's fastest, most reliable 4G network, the DROID XYBOARD tablets. The two new DROID tablets present new options for consumers looking to stay connected, productive and entertained. Additionally, Verizon Wireless will debut the trendsetting DROID RAZR™ by Motorola in a flashy new white color, a unique gift for the winter holidays. All three products will be upgraded to Android™ 4.0 Ice Cream Sandwich.
The new DROID XYBOARD tablets both boast the blazing speeds of Verizon Wireless' 4G LTE network and the power of dual-core 1.2 GHz processors, 1 GB of RAM and MotoCast™ for remote access to non DRM-protected music, pictures, videos and documents stored on work or home computers' hard drives. Both are equipped with scratch-resistant displays that use Corning® Gorilla® Glass to stay brilliant and a coating of water-repellent nanoparticles makes them resistant to accidental spills and splashes.
Lighter than a paperback book and thinner than an AAA battery, the DROID XYBOARD tablets feature Android™ 3.2 Honeycomb, brilliant high-definition displays with wide viewing angles, magnesium-reinforced bodies with aluminum housing and super portable form-factors. Both tablets offer robust Business Ready features, including enterprise-grade security and apps such as Quickoffice HD® for document editing and creation, Citrix® GoToMeeting™ for productivity and collaboration and Google Talk™ for video conferencing.
The DROID XYBOARD 10.1 is optimized for productivity with stylus support for easy notetaking and markup using a precision tip stylus, included in the box. The XYBOARD 8.2 is perfect for portable entertainment with 2.1 adaptive virtual surround sound and a high-definition display for enjoying Netflix™ movies in up to HD quality, concert-like music and serious gaming. Powered by the Verizon Wireless 4G LTE network, DROID XYBOARD 10.1 and 8.2 customers can soar through the Web at blazing speeds of 5 to 12 megabits per second (Mbps) and upload speeds of 2 to 5 Mbps within 4G LTE Mobile Broadband coverage areas.
Additional features for DROID XYBOARD tablets:
10.1-inch and 8.2-inch high-definition In-Plane Switching (IPS) display for DROID XYBOARD 10.1 and DROID XYBOARD 8.2 respectively
Mobile Hotspot Capability – share 4G LTE connection with up to eight Wi-Fi-enabled devices
5-megapixel rear-facing HD cameras with digital zoom, autofocus and LED flash, optimized for capturing the moment
1.3-megapixel HD front-facing cameras perfect for video chatting with friends and family
Dijit™ app allows DROID XYBOARD tablets to double as a universal remote control with an electronic programming guide for TVs, Blu-ray Disc™ players, digital video records (DVR), and most other consumer electronics
Support for Google™ Mobile Services including Gmail™, YouTube™, Google Talk, Google Search™, Google Maps™ and access to millions of books from Google Books™
Supports a wide array of separately purchased accessories including an HD station for connecting to speakers and a larger screen, an HD dock to send content via HDMI out to HDTVs and home theater speaker systems and a stylish portfolio with Bluetooth®-enabled keyboard and mouse
Wi-Fi Connectivity (802.11 a/b/g/n)
Pricing:
Both DROID XYBOARD tablets will be available in Verizon Wireless Communications Stores and online at www.verizonwireless.com this month.
The DROID XYBOARD 10.1 will be available in three models: 16 GB for $529.99, 32 GB for $629.99 and 64 GB for $729.99 all with a new two-year customer agreement.
The DROID XYBOARD 8.2 will be available in two models: 16 GB for $429.99 and 32 GB for $529.99 both with a new two-year customer agreement.
Customers that purchase a DROID XYBOARD tablet will need to subscribe to a Verizon Wireless Mobile Broadband data plan starting at $30 monthly access for 2 GB of data.
DROID RAZR in white will be available in Verizon Wireless Communications Stores and online at www.verizonwireless.com this month for $299.99 with a new two-year customer agreement. Customers that purchase a DROID RAZR will need to subscribe to a Verizon Wireless Nationwide Talk plan beginning at $39.99 monthly access and a smartphone data package starting at $30 monthly access for 2 GB of data.
Special promotion:
Customers will receive $100 off a DROID XYBOARD tablet and $50 off select Motorola accessories for a limited time when a customer purchases a DROID RAZR by Motorola with a new two-year customer agreement.