Motorola DEFY+ is expected to hit the UK market sometime in September
2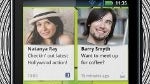 Getting through the summer isn't all that bad, especially when days mainly consist of baking in the sun by the beach, but with fall looming, the elements might prove to be too overbearing for most smartphones to endure. Thankfully, we know that the
Motorola DEFY+ will be coming to market
very soon, but it appears that the
UK
will be getting it in the very near future.
Although we don't see too many rugged style Android powered smartphones on the market, the
Motorola DEFY+
easily grabs our attention with its respectable specs. Motorola has officially announced that the handset is indeed coming to the UK, but we're only given the tease of it arriving during the
September
time frame, which appears to supplement the news surrounding
Germany getting it in September
as well.
So far, popular mobile retail Clove is expected to carry the handset when it goes live, but they don't expect to see shipments arriving until late September. Nevertheless, it still brings us something to look forward to in the meantime.
via
Unwired View