Motorola CEO outlines its tablet foray and is "excited" about future handsets
2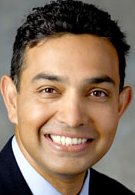 There's no denying it at this point, but one of the next levels that Android is looking to get itself comfy in is the growing tablet market. We know that Dell is on the verge of unleashing the
Dell Streak
, while at the the same time, a decent handful of
mobile manufacturers
are on board of offering their own in the near future. Motorola has been riding the success of the Motorola DROID for quite some time and released a variety of mid-range Android powered handsets to the market as well. However, none of them really managed to obtain the success we've witnessed with the Motorola DROID, but now it looks like we're starting to see the beginnings of a possible foray into the tablet game.
During a Barclays conference, Motorola co-CEO Sanjay Jha laid out some of the boundaries of a potential tablet – which may disappoint some Android fans hoping to see a high-end offering from them. Basically the device would offer a 7" to 10" display which would also be positioned as a companion device that would enable users to do something like watch television on it, but Jha made some remarks that they wouldn't be "comfortable" with bringing on Android to a screen size that's larger than what's seen on a phone. It's still not known as to what will be powering the tablet as they are hesitant in making something with a full blown operating system.
When it comes down to future handsets coming down the pipeline, Jha still doesn't foresee the HTC Droid Incredible being a challenge for the Motorola DROID. He went on further to say that the quality of future devices on their road-map had him "excited" as additional Droid phones are expected – and promised to be better than HTC's current offering. We've been seeing quite a
few leaks
regarding the speculated
Motorola Droid Shadow
of late, but we'll have to keep in the excitement until Motorola gives it the thumbs up.
Motorola Droid Shadow Preliminary Specifications
via
Electronista