Motorola has kept quiet about the Moto Z4's surprising support for a Microsoft accessory
3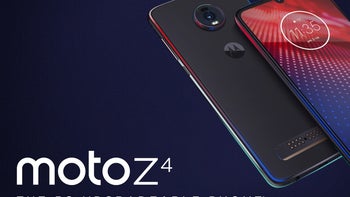 Officially set to be launched on Verizon tomorrow, the
Motorola Moto Z4
might be known for the continued support it brings for Motorola's modular Moto Mod accessories, especially the 5G Moto Mod. Attaching the latter on the back of the
Moto Z4
(or even last year's
Moto Z3
) allows the handset to connect to Verizon's wide-band 5G network. Keep in mind that this is no flagship device as it is powered by the Snapdragon 675 Mobile Platform. But it does support the Moto Actions gestures that allow you to turn the flashlight on and off by making a chopping
motion
with your hand twice, or open the camera app with the twist of a wrist.
Another thing that the Moto Z4 does is much less heralded; according to a Reddit poster (via
XDA
), the phone supports the Microsoft Surface Pen. Ever since the late Steve Jobs said during the unveiling of the first iPhone, "Who wants a stylus. You have to get em and put em away, and you lose em. Yuck. Nobody wants a stylus," the majority of smartphones do not work with them. There are exceptions of course; the launch of the
Samsung Galaxy Note
in 2011 brought back the stylus in the form of the Samsung S Pen. The S Pen works with the Galaxy Note's touchscreen and is one of the reasons for the line's popularity. And there is also the LG Stylo line, as well as some other phones that do work with a stylus.
Unlike Samsung, which doesn't hide the fact that the S Pen comes with its Galaxy Note phones, Motorola has been rather subdued about this. The official Moto Z4 website originally stated that the device is "Stylus Compatible with Microsoft active pen protocol," but that sentence has since been removed from the site by Motorola. One Moto Z4 user says that the Surface Pen works with his phone "as you'd expect, pressure sensitivity and all." He points out that the eraser works as a back button.