Moto X confirmed for August 23rd release on AT&T with Moto Maker
3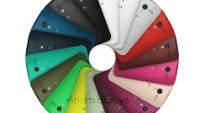 It looks like the time for rumors is over and it's time for real, official information. We have seen a number of rumors saying that the Motorola Moto X will launch on August 23rd, and now we finally have confirmation... from AT&T at least. AT&T has officially announced that the Moto X and the Moto Maker customization site will launch on August 23rd.
As expected, the Moto X will be available for $199.99 for a 16GB model, and $249.99 for a 32GB model. If you opt for AT&T Next, the 16 GB model is available for $27 per month and the 32 GB model is $32 per month. AT&T will offer the woven white and woven black options in-store, as well as the vouchers for the Moto Maker customization option. And, as a limited time bonus, those who choose Moto Maker will get a free
Skip NFC accessory
.
As an added bonus, AT&T will be giving some lucky users access to Moto Maker a bit early on August 19th to design their Moto X early, and get their customized device on August 23rd, since the custom-built devices take 4 days.
No word yet on release dates for other carriers.
Recommended Stories