More specifics about the upcoming Nokia Lumia 730 (Superman) crop up
20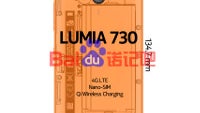 The Lumia 730 has been on our radar for about a month now, and details have been slowly creeping in. Some new ones have been made available through various sources, including the FCC and what is suggested to be its Chinese equivalent.
According to Baidu -- China's most popular search engine -- the Lumia 730 will have dimensions of 134.7 x 68.5 mm (5.3 x 2.69 in), and have support for 4G LTE, Qi Wireless charging, microSD card expansion, and work with Nano SIMs.
Judging from the FCC certificate of one of the device's models (RM-1038), the 730 will also boast NFC support, and will be compatible with LTE networks operating on band 7. In other words, it won't work in the States, as none of the big four (AT&T, Verizon, Sprint, and T-Mobile) make use of that specific band. That said, we wouldn't take this as a conclusive sign that the 730 will skip on US availability altogether just yet.
The rest from the specs rumored so far include a 4.7-inch (720 x 1280 resolution) display, a quad-core Snapdragon 400 processor, 1GB of RAM, a 6.7MP rear camera (5MP one at the front), and 8GB of internal storage. The price of the handset is said to be $240 off-contract, and we currently expect it to be released during Microsoft's event at IFA 2014.