More leaked shots of the BlackBerry Bold 9780 appear courtesy of Vietnam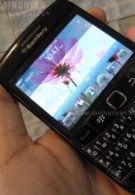 With the BlackBerry Torch 9800 taking up all of the BlackBerry OS 6 spotlight right now, it won't be long before additional devices begin to take precedence and join in on all of the fun.
One of those upcoming handsets, the BlackBerry Bold 9780, was recently caught on film yet again courtesy of Vietnam – but these shots are a bit more detailed. We've been hearing about this
so-called refreshed Bold 9700
for quite an extensive amount of time now – with various
photos
and
videos
showing it off. Nothing really new can be inferred from these latest images that we don't know about already, but it provides some insights as to what we'll all expect when it's released.
On the software side, it looks like BlackBerry OS 6 will be in full force, but there are reports hinting that web browsing with the new Webkit based browser is still somewhat unwieldy; despite packing 512MB of RAM. Additionally, the handset is speculated to hit the shores of Vietnam some time in October – still, no
specific launch plans or dates have been revealed
.
source:
Mai Nguyen
(translated)