Mophie Outride is a rugged, waterproof iPhone case with a built-in wide-angle lens
4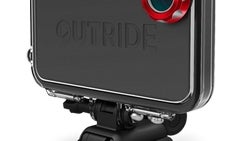 The folks at Mophie
–
the same ones that brought us the
Juice Pack lineup of iPhone extended battery cases
, have another cool accessory for us, yet this time, it is not meant to supply power to your iPhone's dying battery. It is called the Mophie Outride and it
transforms your iPhone 4 or iPhone 4S into a rugged, waterproof camera
.
What makes the Mophie Outride special is that it is equipped with a 170-degree wide-angle lens, which allows users to capture more of the action from up-close. In addition, the case is equipped with a mounting system, should you need to attach the smartphone to a stand, a tripod, or the handlebar of your mountain bike while shooting. And if that's not enough, you can download the Outride app from the App Store and then share your footage with other people worldwide.
Interested in the Mophie Outride? Well, the accessory won't be out until mid-September, but you are free to visit the maker's web page and leave your email in order to get notified when it is in stock. Getting your hands on one will set you back anything between
$129.95 and $149.95.
Recommended Stories