Modern Combat 4 coming to Windows Phone 8 on April 10
43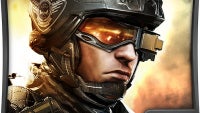 That
Gameloft will bring a number of its mobile games to Windows Phone 8
is no secret at all. We also know that the popular Modern Combat 4: Zero Hour – an awesome first-person shooter, is on the list as well. When is that going to happen, you ask? Well, no later than Wednesday, April 10, so make sure your thumbs are in top shape by then!
In case you've never played Modern Combat 4 on an iPhone or an Android smartphone, then maybe you should give it a shot some day. It emulates the gameplay of the Call of Duty series and even supports multiplayer games. Add to all that its amazing graphics and audio effects and you end up with an immersive first-person shooter that's worth the price tag attached to it.
So if you're an owner of a Windows Phone 8 smartphone craving for some first-person shooter goodness, this is the title you should check out on Wednesday. Here's a demo of Modern Combat 4: Zero Hour for your viewing pleasure.