Missed the Galaxy S 4 Unpacked announcement? You can watch a full video of the event here
10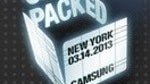 The
Samsung Galaxy S 4
has just been announced with a grandiose event in New York's Radio City Music Hall. Except for the Galaxy S 4 which turned out to be an evolution to its predecessor, unexpectedly for some, Samsung actually did manage to pull quite a show.
Set to the tune of some jazzy Broadway classics, it all started with the Samsung messenger, the Jeremy kid (who turns out to be an amazing tap dancer, watch on!) coming on stage. After a quick introduction, Samsung's own JK Shin went under the limelight for the big announcement, but kept it sweet and short.
The rest was taken care of professional actors who pulled quite the show demonstrating us all the new features of the Galaxy S 4 and making even the most boring ones entertaining. Good job, Samsung.
And now, just minutes after it ended, Samsung has posted the full video of the Galaxy S 4 announcement. Watch the whole event right below.
source:
Samsung Mobile