Samsung Galaxy S 4 is officially unveiled
99+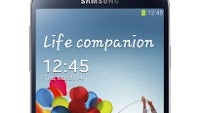 Ladies and gents, the waiting is over -
Samsung has just officially unveiled the Galaxy S 4
. An iterative device, the Samsung Galaxy S 4 looks almost identical to its predecessor the S III, but adds on a slightly larger, sharper 5-inch 1080p display, a snappier processor and an updated, 13-megapixel camera.
Designwise,
the S 4 is an almost identical twin to the S III
: a slightly thinner 7.9mm one (the S III was 8.6mm thick), with a narrower bezel taking up more of the front leaving little space for everything else. The screen is a Super AMOLED one, a sharp 441ppi display with deep blacks and great viewing angles. Buttons are the same as on the S III: the single big physical home key on the front surrounded by a capacitive back and settings buttons. On the left side is the volume rocker and on the right a lock key hiding an IR blaster underneath.
And yes, the Galaxy S 4 is made out of plastic and you are not the only one disappointed by that.
Samsung seems to have adopted Apple's approach to devices - a two year cycle, a tick year when a new design is unveiled and a tock year focusing on software.
This is obviously a tock year for the Samsung Galaxy S series
, and the S 4 comes with a plethora of new software features: Air View with its hover based actions borrowed from the Note series and Air Gestures for a Kinect-like interface that allow you to make a swiping gesture in front of the display to scroll up or down. Then you have the Smart Scroll and Pause where the device tracks your eyes.
Those are just a few of the novelties that come with the updated Nature TouchWiz UX, Samsung's refreshed skin running on top of the latest Android 4.2.2 Jelly Bean.
Skinny on the inside, the Galaxy S 4 is a beast on the inside running on the new Qualcomm Snapdragon 600 chip with a
quad-core 1.9GHz
Krait 300 processor. Now that's what the U.S. version will have and it of course comes equipped with a 4G LTE connectivity. The international version is featuring Samsung's home-grown Exynos 5 Octa chip based on the big.LITTLE setup with a quad-core Cortex A7 setup running at up to 1.6GHz and a quad-core A15s running at up to 1.2GHz. Internal memory starts at 16GB, and you also have a 32GB and 64GB versions, all expandable via microSD cards of up to 64 gigs.
Samsung is also bundling a
serious 2,600mAh battery
that should easily get you through a day of use.
The
13-megapixel main camera
with a single LED flash bulges slightly on the back, promising to capture a stunning amount of details. And here is another area where Samsung brings its software magic. Again, we have a bunch of new little camera features. Dual shot for once allows you to simultaneously record footage on your rear and front cameras, while Cinema Photo basically makes a GIF for you and Story Album stitches all footage and stills into an album.
One thing we are excited about is the
huge number of sensors
that Samsung included in the S 4. Along the traditional accelerometer and gyro, there are a temperature and humidity as well as a gesture sensor for the Kinect-like Air Gestures functionality. There is even a pedometer that combines with a new S Health feature to track your steps and make you enthusiastic about leading a more active lifestyle. The device also features NFC and Bluetooth 4.0 connectivity.
The Samsung Galaxy S 4 will go on sale on a whopping 327 operators in 155 countries at the
end of April
. In the United States, the Galaxy S 4 will be available on AT&T, T-Mobile, Sprint, Verizon, Cricket and US Cellular. There are no price details yet but we'd guess prices will start from $200 on a two-year contract.