Misfit's elegant Path watch binds fitness tracking with long battery life, and is priced to go
2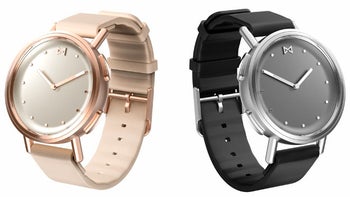 There is certainly a market niche for people who don't want a full-fledged smartwatch that has to be recharged every other day and costs a pretty penny, but rather an elegant timepiece that will have some smarts and connectivity, and doesn't have to be babysat. That's precisely the niche that
Misfit
is targeting with its new Path stainless steel hybrid watch, which is the smallest and arguably the most elegant one that the company has announced to date.
Priced affordably at $150 the Misfit Path looks like a regular timepiece, wrapping around your wrist unobtrusively, but has Bluetooth connectivity and sensors inside that allow it to shoot activity tracking like step counting, sleep patterns, calories wasted and how long have you walked or ran during the day or a set period. All this info is gleaned not from a puny watch display, but from the comfort of your phone, connected to the Path via the Misfit app. There's also a programmable side button that can act as your phone's camera shutter, as a music playback controller, or can call your phone if you misplace it somewhere.
The Path offers stainless steel, rose, gold, and a steel/gold models, with swappable 16mm straps to go with them when it lands in the spring. The best part besides the price? It comes with a coin battery that is good for six months of endurance, and is still water-resistant up to depths you'll never dive to. Take that, smartwatches!