Minuum shows off its keyboard on a smartwatch
3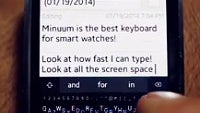 When
Minuum
was first announced, the idea was made clear: this wasn't a re-imagining of the keyboard just for the sake of change; the team wanted to create a keyboard that would be flexible enough to adapt to all of the new technologies on the way, including wearables. Now, Minuum is showing off its app running on a smartwatch for the first time.
The video is pretty quick, just one minute long, but it gets the point across quite well. Minuum can work incredibly well, even on a display that is just 1.63-inches. The demo is done on a Samsung Galaxy Gear, which is a device that you wouldn't really expect to use for text input. You might dictate a short message on the watch, but that's about it. Of course, if you're in a noisy area, dictation won't always work.
But, then again, if you have a Galaxy Gear, it won't work without a smartphone around, so you might be better off just writing the message on your phone. In the future, there will definitely be standalone smartwatches (we've already seen a couple, like the
Neptune Pine
), so Minuum may be a good option when those devices make it to market.
If you want to try out the app, it is available in the Google Play Store, and works on both phones and tablets. Even better, the app is on sale right now for just $1.99.