Neptune Pine is less a smartwatch and more a smartphone for your wrist
10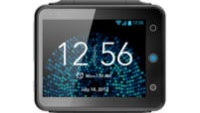 A bit of an annoyance when it comes to the first generation of smartwatches is that they are all highly dependent on your smartphone. Some of the current set of smartwatches are completely useless if you don't have a companion smartphone to provide a data connection. That's the starting point for the Neptune Pine, which aims to be the "first" truly standalone smartwatch (assuming you ignore the
Omate smartwatch
which began shipping a couple weeks ago).
The Neptune Pine looks pretty impressive, but the first thing to note is that the device is big (which is what happens when you have to build a SIM tray into a watch). It features a 2.4-inch display, and generally just looks like it might be a bit too big for most users. But, it looks like it will be powerful. In reality, the Pine is less of a smartwatch and more of a full Android smartphone that just happens to strap to your wrist. It houses a Snapdragon S4 Pro processor clocked at 1.2GHz, 512MB of RAM, either 16GB or 32GB of storage, a 5MP rear camera, a VGA front camera (both with LED flash), the 2.4-inch 320 x 240 display, and it is running
full
Android 4.1.2 Jelly Bean.
It supports all Android apps, but doesn't yet have access to Google Play, although the team is working to get Google Play. All you have to do is pop in a micro-SIM card and you're good to go. You can make and receive calls, browse the web, play games, watch movies, etc. And, if the battery life stands up to the claims it could be okay (although the battery numbers have been jimmied a bit.) Neptune is claiming 120 hours of standby time, 10 hours of music playback, 8 hours of talk time (on 2G), and 7 hours of web browsing (on Wi-Fi). Of course, we'd really like to know the web browsing times on 3G before getting too excited.
Neptune is based in Montreal and in its Kickstarter has already flown well past its funding goal. As of this writing, the cheapest amount you can put in to get a Pine is $229CAD, and the company is expecting to ship in January of 2014.