Minions Paradise (for Android and iOS) is the newest game from the Despicable Me universe
3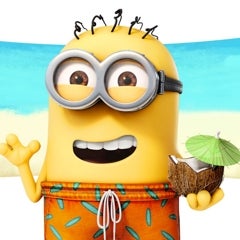 Electronic Arts this week unveiled a brand new mobile game called Minions Paradise. Naturally, the game is all about the famous minions from the blockbuster Despicable Me movies, but it's completely different from the
Despicable Me: Minion Rush game
(an endless runner that's been available for quite some time).
Minions Paradise introduces a new minion: Phil, who's good-hearted but very clumsy, usually "ruining everything." Phil accidentally sinks a cruise ship full of minions, but fortunately they find a deserted tropical island nearby. Your job is to help Phil turn the island into a minion paradise by building everything that's needed for living there. Multiple mini games will make sure to keep you entertained while the community evolves.
The Minions Paradise game has a lot in common with the upcoming Minions movie, which will debut this July as a spin-off of Despicable Me and Despicable Me 2. The game is free to download, but obviously contains in-app purchases. While the game is already visible in Google Play and iTunes, it's currently available only in select markets (for example, it's not yet out in the US). The title will be released everywhere starting July 7. Who's looking forward to playing it?
sources:
Google Play
,
Apple iTunes
,
Minions Paradise