Despicable Me: Minion Rush Review
2
Warning:

This is a freemium game with in-app purchases. To make sure you avoid accidental purchases within the game, make sure to set up your device to use password to restrict purchases.
Cute yellow pill-shaped critters rushing to get a coveted "Employee of the Year" award and ready to even push their fellow co-workers off bounds if that's what it takes to win the approval of their chief and coincidentally main villain Gru. That is the
story
behind Despicable Me: Minion Rush, an endless runner game based on the Despicable Me movie series.
In this game you take over the role of one of these blinded by ambition critters (or "minions") that is ready to jump on a trampoline right into the full of danger futuristic blue industrial world that is Gru's Lab. There, your fellow minion is trying to collect as many bananas as possible and avoid objects on the three-lane road it runs onto.
Controls
are simple - you have to swipe left or right to change lanes to either avoid collision with obstacles or collect bananas. Run a few hundred meters and you'll start encountering that you can also swipe up to jump over some obstacles or slide down under higher structures. Run a few hundred more, and the game picks up its pace noticeably and really starts to test your reflexes.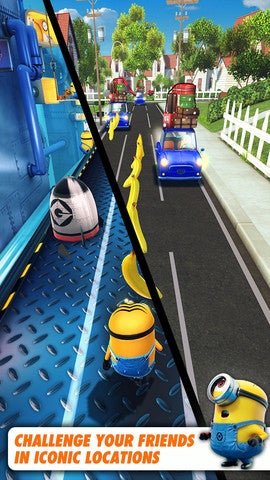 The
gameplay gets more diverse over time
- it is not just about running the longest distance. Between runs, the bananas you have collected on your way allow you to enable power-ups, new features and even redress your minion. This will quickly get you hooked up to play a few more minutes until the next upgrade. Luckily, all progress is saved so you can pick up from where you left off anytime. This creates a feeling of continuity that is largely absent in other such games like Temple Run.
The running and jumping in the start quickly transform into sliding through tunnels at high speeds, riding a rocket, jumping on trampolines and even shooting high in the sky riding a... Fluffy Unicorn. Teleportation tunnels at some point of the game will get you out of the blue lab and into the open of Gru's Residential Area for a totally new environment.
After you advance through the game, you'll even get to fight bosses.
Boss fights
are fun and a bit harder. The camera angle changes as you first face Vector, Gru's arch-enemy, riding a futuristic vehicle and sending evil robots your way. You'll fight other bosses too later in the game, and that's a nice addition augmenting the classical definition of an endless runner genre.
There is one thing, though, that really makes Despicable Me: Minion Rush stand out among other endless runners and it is the combination of great graphics and the funny minions. You can stay entertained just watching the yellow minions gibberish talk and grimaces. Animations are hilarious and sound effects and minion voiceovers are hilarious.
Finally, we have to say a couple of words about
in-app purchases
. Despicable Me: Minion Rush is free to play, but relies on in-app purchases for monetization. Good news is they are not too obtrusive. You can definitely speed up your progress with money, but this feels a bit like cheating and if you want to test your reactions you can freely play without paying a cent.
Conclusion

Despicable Me: Minion Rush starts as just another endless runner game, but the irresistible charisma of the cute yellow minions and the diverse gameplay quickly grow on you. Unlike other licensed games it's surprisingly well made and fun. Kids will love it for the hilarious characters and adults will be equally entertained and even somewhat challenged.
PROS

Gorgeous graphics, funny characters, hilarious animations and sounds
Gameplay is diverse with boss fights, upgrades and changing environments
Suitable for both kids and adults
Unobtrusive in-app purchase scheme
CONS

-