Mike Lazaridis: In the future, all BB smartphones are to be powered by the PlayBook OS, talks up the tablet
3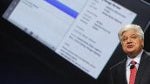 In the last few days not
one
, but
two
videos showing the
PlayBook
in action were presented and now it's time for Mike Lazaridis, one of the two RIM CEOs, to take the stage and personally talk up the first RIM tablet. As you can see from the video below, multitasking is running smoothly, even when quite a few apps are opened at once.
On a separate occasion, Mike Lazaradis said that the tablet's operating systems are the future of the BlackBerry phones, because in his words
"we see it as an opportunity to free where the smartphone can go" .
As we informed you, some analysts believe that RIM's sales will slow down
"in the next few quarters"
. The sales of the PlayBook, scheduled for Q1 2011 release, are expected to be between 2 and 4 million units due to the stiff competition it faces from the iPad and the huge number of upcoming Android tablets.
source:
All Things Digital
and
Reuters