Microsoft teases image of Lumia 1330 in Indonesia, says device is "Coming Soon"
6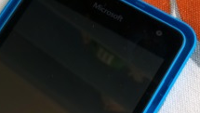 Back in December,
we first told you about the Microsoft Lumia 1330
. This is apparently the sequel to the
Nokia Lumia 1320
. The latter is a 6-inch phablet that doesn't quite live up to the specs seen in the higher-end
Nokia Lumia 1520
. The Lumia 1330 will be getting some bumps in the right places if all of the speculation about it is true.
For example, the 5MP rear camera on the Lumia 1320
is expected to be replaced with a 14MP snapper
on the Lumia 1330. And the .3MP camera that adorns the front of the lower spec'd Lumia phablet will be replaced with a 5MP "selfie" shooter. The dual-core Snapdragon S4 processor found under the hood of the Lumia 1320 is expected to be replaced by a quad-core Snapdragon 400 CPU. We could see the amount of RAM rise on the Lumia 1330 from 512MB to 1GB, but earlier rumors had the phone sporting the former amount. The screen on the new handset is being shrunk from the aforementioned 6-inches on its predecessor, to 5.7-inches which will raise the pixel density from 245ppi to 258ppi.
What brings this phone to mind now is a teaser that Microsoft Indonesia posted in, well, Indonesia. While the teaser didn't mention the model number, the image does have the same rounded corners seen on a leaked picture of what appears to be
the Lumia 1330's back cover
. By the way, translating the words on top gives us the phrase "
Dual SIM card made that smart
." Speaking of Dual SIM capabilities, the single SIM version of the phone is expected to carry the Microsoft Lumia 1335 name.
Some variants of the phone have already been leaked in one way or another. The RM-1062 is the Microsoft Lumia 1335, a single SIM version
with
support for LTE Advanced
, a Lumia first. This model has already visited the FCC. The RM-1065 is expected to be a Lumia 1330 with Dual SIM and LTE support.
Also receiving FCC certification is the RM-1066
, a single SIM Microsoft Lumia 1335 with 3G connectivity. The RM-1067 is a 3G phone with Dual SIM support which makes it a Lumia 1330 model. The latter has been certified in the U.S. (by the FCC) and in Indonesia.
We could see this all sorted out and made official in Barcelona at MWC 2015. Of course, we will be there to keep you up to date with the latest product announcements, news, and videos. Keep it here!
source:
NPU
via
WMPoweruser