Microsoft releases OneNote for iPad
4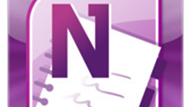 Note taking is one of the most obvious things you'd need to take care of on your phone. And while currently Evernote is probably the most popular solution,
Microsoft's OneNote
is a worthy competitor. The app has been available for a while on the iPhone and iPod touch, and
now it has arrived to the iPad
, leveraging all of that extra space on the screen.
OneNote allows you to not only write notes but also sync them, so you can later read or view your writings from another device.
"A recurring request from our customers has been for a version that can be used more easily on the iPad's larger screen,"
Microsoft's Michael Oldenberg admitted.
The support for Apple's tablet comes with a bump in the version number to 1.3. Here's a list of all improvements it brings:
Support for iPad and iPad 2
Localization into several new languages and markets
Tabbed user interface
Quick note creation in the Unfiled Notes section
Table rendering
Improved Windows Live sign-in experience
Option to sync notebooks only over a Wi-Fi connection
Integrated upgrade option
Microsoft OneNote for iPad
(iTunes link) is free on the App Store, so it wouldn't hurt checking it out. Don't hesitate to also let us know your opinion about the app in the comments below.