Microsoft Surface tablet will launch on October 26th, along with Windows 8
7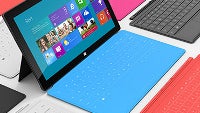 We already knew that
Microsoft is releasing its Windows 8/RT operating system
on October 26th, and now the company has confirmed that the Microsoft Surface tablet release date will coincide.
"The next version of our operating system, Windows 8, will be generally available on October 26, 2012.

At that time, we will begin selling the Surface, a series of Microsoft-designed and manufactured hardware devices

,"
Microsoft revealed in its annual report with the U.S. Securities and Exchange Commission.
That's not a huge surprise given that a platform needs devices at launch, but it's definitely good news for those waiting the Windows 8/RT devices. Microsoft is offering the devices with the option of two types of a keyboard with a trackpad, that it hopes will make the tablet a content creation machine, not just a device for content consumption.
Interestingly, across the report there are disclaimers about Windows 8 and its future. Microsoft is warning that a lot of factors are uncertain about its upcoming mobile OS and devices, and if not successful this could hurt the company. Here is what the disclaimer reads:


"In fall 2012, we are launching Windows 8...Its success depends on a number of factors including the extent to which customers embrace its new user interface and functionality, successfully coordinating with our OEM partners in releasing a variety of hardware devices that take advantage of its features, and attracting developers at scale to ensure a competitive array of quality applications. We expect to incur substantial marketing costs in launching Window 8 and associated services and devices, which may reduce our operating margins."


source:
CNET