Microsoft Surface Pro Review
54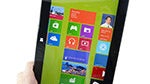 Introduction:
Dear old Microsoft, were you really teasing us all this time with your
Surface RT
tablet? When we first laid our eyes on your modernized slate, we were intrigued by how well it seemed to come together – it just had this polarizing aura around it. However, the more we played around with it, the Windows RT experience to be specific, we soon realized that its infancy was primarily holding back the tablet from reaching full stardom. For those who waited out the storm, the timing is finally over, as the highly equipped
Microsoft Surface Pro
is hitting the scene with its full Windows 8 experience.
No folks, this isn't merely a Surface with Windows 8 slapped on, but rather, there's been a complete overhaul in the hardware department as well – making it a viable competitor to not only some of the titans in the tablet market, but also a killer ultrabook rival as well. Outfitted with components that put it in line to a notebook, this slick looking tablet isn't looking to mess around at all. And for Microsoft, it's surely going to provide the productivity that consumers need, seeing that it has full support for legacy Windows 7 software.
Quite demanding isn't it? Sure, it's a workhorse like any other ultrabook, but some might be enticed by the portability aspect of the Surface Pro – and that's despite the larger size over its sibling in the Surface RT! At the same time, though, it's worth mentioning that it's sporting a higher sticker price too. Throw in the fact that pricing starts at $899.99, it's undoubtedly pricier than other prized tablets like the
Apple iPad
and
Google Nexus 10
, but unlike those outstanding tablets, the Surface Pro might attract those who are looking to find the ultimate all-in-one solution.
The package contains:
AC wall charger
Pressure Sensitive Stylus
Design:
Sticking firmly to the design language established by the Microsoft Surface RT, some would be hard pressed to discern many noticeable differences with the design of the Surface Pro. However, there are a few that really stand out – such as the thicker casing (0.53-inches) and heavier feel (32 oz) in the hand. Considering that the Surface Pro is packing along beefier components, it doesn't really surprise us that it's accompanied by some heft, but then again, some might still be thrown off if they're accustomed to the iPad or other Android tablets.

Outfitted with the same slick looking
magnesium composite casing
from before, more commonly known as "VaporMg," it gives the tablet that chic modern look to make it stand out from other conventional styles. At the same time, the sturdy materials give a sense of durability that makes its higher cost justified. As much as we appreciate the tablet's impeccable build quality, it definitely feels a bit sharp around the edges. Lastly, there's a recognizable gap in the rear of the tablet that separates the back panel so that air vents are exposed all along its trim. Of course, the design as a whole isn't something we haven't seen before, but it's still a distinctive one nonetheless. Sure, some might be distracted by the larger size over other full-sized tablets, but considering that it's more portable than most laptops, and some ultrabooks out there too, we surely can't complain much about it.
Like before, there's a capacitive Start button positioned directly beneath the display, which fittingly enough brings us back to the Start Screen. Rarely getting noticed, the capacitive button does indeed feature back lighting – giving it a sparkly glow. Meanwhile, above the display, we have a 0.9-megapixel camera and an LED light that shines up to indicate the front-facing camera is active.
Along the tablet's trim
, all the components from before are sought out again – these consist of the dedicated power button and microphone on the top edge, volume control, 3.5mm headset jack, and USB 3.0 port on the left edge, microSD card slot, magnetic power connector, and a mini DisplayPort jack on the right side, and finally just the magnetic docking port on the bottom trim. With the latter, it's used in conjunction with either the optional Touch or Type Covers that Microsoft offers with its Surface tablets.
In the rear, the
0.9-megapixel camera
is the only item that breaks up the uniform metallic finish – well, there's also the Windows logo slapped on there too. And once again, we're greeted to the familiar kickstand that makes the Surface Pro extremely unique in the tablet spectrum. Indeed, it provides us with the comfort of being able to have a hands-free video watching experience, but it's also needed for typing with either the Touch and Type Covers. Regrettably, we can only type comfortably with the covers on the Surface Pro when it's laid flat on a table. Since the kickstand only adjusts to a single open position, there isn't much flexibility in moving it around for better viewing.
Touch Cover:
Connecting a Touch Cover to the Surface Pro, there's a firm connection between the two – so much so that it requires some force to remove. Naturally, there's an alienating feel the first time using the Touch Cover, since you don't get any tactile response when you tap on a button. Still, after some practice, we find it usable enough to comfortably use, plus, there's a trackpad on there as well for an alternative PC-way of navigating around the platform. For those who yearn for a physical response, the Type Cover offers us a more familiar process with its physical buttons – albeit, it's thicker than the Touch Cover. And finally, we like how Microsoft offers the Touch Cover in a variety of colors and designs, but then again, you'll need to think long and hard about their price points. Specifically, the Touch Covers start at $119.99, with the Limited Edition Touch Covers going for $129.99. Indeed it's expensive, especially when the single black colored Type Cover is selling for $129.99.
Pressure Sensitive Stylus:
Last, but certainly not least, Microsoft throws in one new accessory with the Surface Pro – an S-Pen like pressure sensitive stylus that utilizes Wacom technology and registers 1,024 degrees of pressure sensitivity. Frankly, it mimics the look of a mechanical pencil, which is comfortable with its large size, yet, it's a bit bland looking. On one end, you have the pressure sensitive nub, while on the other, there's an eraser-like flat stub. Along its body, more towards the pointy nub end, there's a narrow button that performs a function similar to pressing the right mouse key, and at the same time, it's how the stylus is attached to the Surface Pro. Unfortunately, it's not something that discretely tucks away – so there's a high possibility of it falling off and being misplaced.
As expected, the stylus works rather well with measuring varying degrees of pressure when using it with the preloaded Fresh Paint app, however, it seems as though the eraser portion is only recognized by Microsoft OneNote 2013. Beyond the obvious functionality of drawing and writing with the stylus, we appreciate how it also acts as a mouse cursor, which comes in handy when using the legacy PC interface on the go.
Display:
Giving this "Pro" model some much-needed separation from its sibling, there's a higher resolution
10.6-inch 1920 x 1080 PLS display
that remarkably gives the Surface Pro much of its sparkle, and a higher pixel density of 208 ppi. In contrast to the Surface RT's 1366 x 768 resolution display, this is undoubtedly sharper with its visuals, since every single detail has definition – whereas some jagginess was evident with the Surface RT's display. Adding even more pizzazz to its overall appeal, the display is delightfully high-contrast and vivid, which makes it easily viewable in outdoor conditions. Obviously, colors are truly robust with the display's warmer color production too, which are maintained thanks in part to its wide viewing angles – with distortion being evident only at extreme angles.
Sliding our fingers around, the 10-point multi-touch display reacts quite well with various swipes and gestures. Even though the glossy finish makes the display reflective, the strong brightness output tends to minimize those unwanted distractions, but then again, it's a magnet for smudges and finger prints. Luckily, they're easily removed with a quick wipe from a microfiber cloth of some kind. When it comes down to it, the higher resolution display is a welcoming sight, especially after looking at the Surface RT, but in the greater scheme of things, it still doesn't have the same sense of might that's attached to the Google Nexus 10 display.
Recommended Stories