Samsung Galaxy smartwatches are getting a dedicated Microsoft Outlook app
1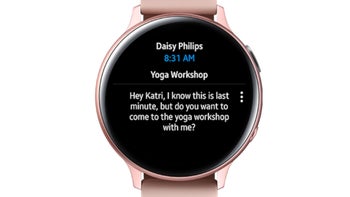 As the title says, it looks like Microsoft had done the impossible and released a dedicated Outlook app for
Samsung Galaxy smartwatches
. But before you get too excited, you'll probably want to know where exactly the new app is available and from where you'll be able to download it.
The answer to the first question is quite simple (and sad, probably), as the new Outlook app for Galaxy smartwatches is only available in the United States at the moment. However, Microsoft
confirmed
that it will be rolling out the app to additional territories in the coming months.
As for the answer to the second question, that's just as easy. You can now download Microsoft's Outlook app directly from the
Samsung Galaxy App Store
and you won't have to pay anything since the app is free.
The app is compatible with all Samsung Galaxy Watch wearables and will send you notifications for new emails and upcoming events. You can then take various actions like reply, flag, mark as read or unread, archive, and delete an email.
Moreover, the entire inbox can be explored directly on your watch and you can use filters if you want to limit your search. Here is hoping that Microsoft will make the email available in more countries sooner rather than later.