Microsoft announces new sharing experience for OneDrive on Android and iPhone
0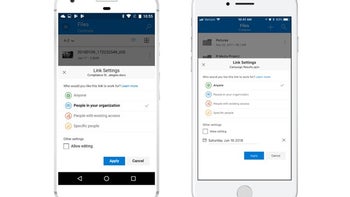 OneDrive
suffered many changes
in the last year, so if you're using the app on a regular basis, you've probably noticed how the mobile app evolved over the course of 2017. Although
OneDrive for mobile
received a few updates in 2018, the one announced by Microsoft today seems to be the most important to date.
In fact, the new update released by Microsoft is a major step towards bringing the same sharing experience that OneDrive offers on other platforms to Android and iOS. The overall design of the mobile app is cleaner with simplified controls and permissions, similar to what
OneDrive
offers on desktop and web.
According to Microsoft, the new changes are already available for Android users, while iOS users will be able to take advantage of them as well since the update is currently rolling out.
Apparently, a new set of improvements and new features will be announced in May at the SharePoint Conference North America, Microsoft confirmed in a statement.