MetroPCS needs more time to perfect VoLTE; carrier introduces ZTE Anthem 4G LTE
6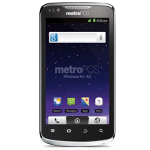 "There are a number of changes that need to be made in base station optimization in Dallas. This is not your grandfather's Buick. This is a different animal."-Roger Lingquist, CEO MetroPCS
MetroPCS has been working on offering Voice over LTE for its customers in the 14 markets where it offers LTE service. Unfortunately for those customers who had been looking forward to the improved voice quality with VoLTE, the carrier says that it
will need another 4 to 6 months to "

fine tune

" the technology
. MetroPCS has already launched the service in the Dallas-Ft. Worth market. The carrier has a plan which is to take the spectrum it saves by switching calls to VoLTE and refarming that CDMA spectrum for LTE use.
MetroPCS now has
1 million customers using its LTE service
, up from the 700,000 it had in July. The company says that its churn rate for LTE accounts is just 1%, well under the carrier's total churn rate of
3.4
% in the second quarter. Speaking at the Goldman Sachs Communacopia conference, MetroPCS CEO Roger Linquist says that offering LTE service has given the company freedom to to be opportunistic when looking to add more spectrum. Even though the company has $1.9 billion in the bank, the refarming strategy has reduced the urgency to purchase spectrum now. This way the carrier does not have to respond in a knee-jerk manner and can be more strategic with its spectrum purchases.
Lindquist also added that he doesn't want customers to think that just because new technology is coming in, that they will have to toss their current handset. The executive said that updates will come to the LTE phones that Metro is offering now so that these models
will be able to offer the new features and faster speeds
that new LTE technology brings. In the meantime, MetroPCS is using low priced phones and promotions to get more of its customers to switch to LTE.
For example, today MetroPCS introduced the
ZTE Anthem 4G LTE
, which is the first LTE enabled phone made by the Chinese based manufacturer for the U.S. market. The device has a 4.3 inch WVGA screen with a 217ppi
pixel
density.and is powered by a dual-core 1.2GHz Qualcomm Snapdragon processor. Android
2.3
(!) is installed. MetroPCS will sell the ZTE Anthem 4G LTE for $219 in the coming weeks.
MetroPCS does have an unlimited talk, text and data plan over LTE for $55 per month which the carrier says beats competing plans from other carriers like Verizon. The $55 unlimited plan is a nice price cut from the original $70 rate. Even though you get unlimited everything for $55, the deal itself is for an limited time only. If you've been thinking about joining MetroPCS, this might be your best time.
source: MetroPCS via
FierceWireless
MetroPCS Adds ZTE Anthem™ 4G to its Expanding 4G LTE Smartphone Portfolio

Anthem 4G is first ZTE 4G LTE Android™ smartphone in the U.S.

RICHARDSON, Texas, Sept. 20, 2012 /PRNewswire/ -- MetroPCS Communications, Inc. (NYSE: PCS) and ZTE Corporation (H share stock code: 0763.HK / A share stock code: 000063.SZ) ("ZTE"), a publicly-listed global provider of telecommunications equipment and network solutions, today announced the availability of the ZTE Anthem™ 4G, the first 4GLTE Android™ smartphone from ZTE available in the United States. The Anthem 4G will be available at MetroPCS stores and online in the coming weeks.

(Photo: http://photos.prnewswire.com/prnh/20120920/DA77563)

(Logo: http://photos.prnewswire.com/prnh/20100714/DA34639LOGO-b)

The ZTE Anthem 4G features 4GLTE connectivity, a dual-core 1.2 GHz Snapdragon™ processor and a 4.3" WVGA capacitive touchscreen, making it an ideal choice for the style-conscious consumer who also demands speed, performance and ease of use. Available with any of MetroPCS' tax and regulatory fee-inclusive 4GLTE service plans ranging from $40 - $70 per month and including the new $55 unlimited 4GLTE promotional plan, the ZTE Anthem 4G makes it possible for value-conscious customers to experience the power of MetroPCS' 4GLTE network.

"As our first U.S. 4GLTE smartphone, we're proud to launch the Anthem 4G with our long-time partner MetroPCS because we share their goal of providing consumers with outstanding value and a strong 4GLTE experience," said Lixin Cheng, CEO, ZTE USA, and president, North America Region, ZTE.

The ZTE Anthem 4G offers an exceptional user experience for customers who want to do more with their smartphones, such as share multimedia content in the moment. The Anthem 4G features HD video output via a HDMI connector, which makes on-the-go HD video playback a reality. Consumers can connect the Anthem 4G to a television or computer monitor via the HDMI port to share their favorite HD videos and films on the big screen with family, friends and colleagues, and with Dolby® Surround Audio, the multimedia playback experience becomes more realistic and immersive.

The Anthem 4G also features dual microphones with noise cancellation, delivering impressive sound quality by extracting surrounding noise from the primary microphone. The smartphone runs on Android™ 2.3 (Gingerbread).

The Anthem 4G will be available in the coming weeks for $219 plus tax after mail-in-rebate for a limited time at local MetroPCS stores or online at www.metropcs.com. The ZTE Anthem 4G supports MetroPCS' 4GLTE Mobile Hotspot service for an additional monthly charge.

For more information, please visit:

Details on rate plans and service features: www.metropcs.com/plans

MetroPCS Terms and Conditions of Service: http://www.metropcs.com/metro/tac/termsAndConditions.jsp?terms=Terms%20and%20Conditions%20of%20Service

Press resources: www.metropcs.com/presscenter

Follow MetroPCS on Twitter: www.twitter.com/metropcs

Become a fan of MetroPCS on Facebook: www.facebook.com/metropcs

View MetroPCS' latest videos: www.YouTube.com/metropcs

About MetroPCS Communications, Inc.

Dallas-based MetroPCS Communications, Inc. (NYSE: PCS) is a provider of no annual contract, unlimited wireless communications service for a flat rate. MetroPCS is the fifth largest facilities-based wireless carrier in the United States based on number of subscribers served. With Metro USA(SM), MetroPCS customers can use their service in areas throughout the United States covering a population of over 280 million people. As of June 30, 2012, MetroPCS had approximately 9.3 million subscribers. For more information please visit www.MetroPCS.com.

About ZTE USA

ZTE USA is a subsidiary of ZTE Corporation (H share stock code: 0763.HK / A share stock code: 000063.SZ), a leading global provider of telecommunications equipment and network solutions. ZTE USA is dedicated to making quality communications technology accessible to all. The company draws on more than 25 years of experience and research investment to deliver smart, affordable, quality choices for infrastructure and mobile data device customers nationwide. For more information, visit www.zteusa.com and follow @ZTE_USA.

About ZTE

ZTE is a publicly-listed global provider of telecommunications equipment and network solutions with the most comprehensive product range covering virtually every sector of the wireline, wireless, service and terminals markets. The company delivers innovative, custom-made products and services to over 500 operators in more than 140 countries, helping them to meet the changing needs of their customers while achieving continued revenue growth. ZTE's 2010 revenue led the industry with a 21% increase to USD10.609 billion. ZTE commits 10 percent of its revenue to research and development and takes a leading role in a wide range of international bodies developing emerging telecoms standards. A company with sound corporate social responsibility (CSR) initiatives, ZTE is a member of the UN Global Compact. ZTE is China's only listed telecom manufacturer, publicly traded on both the Hong Kong and Shenzhen Stock Exchanges (H share stock code: 0763.HK / A share stock code: 000063.SZ). For more information, please visit www.zte.com.cn.

SOURCE MetroPCS Communications, Inc.

Elaine Steinfeld, GolinHarris for MetroPCS, +1-972-341-2585, esteinfeld@golinharris.com; or Mitch Peterson, ZTE USA, +1-913-706-9529, mitchell.peterson@zteusa.com