Meet iMpulse – the smallest game controller for iPhone and Android
12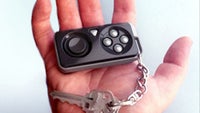 Kickstarter is a place where a lot of great product concepts can be found, an iMpulse is one of them. It is a wireless controller for mobile devices – smartphones, tablets, and the like, with support for both iOS and Android. What can you do with it, you ask? Well, the proper question would be what can't you do with the tiny gizmo.
For starters,
iMpulse is made for playing video games
. Sure, most titles are fine to play with on-screen controls, but the tactile response that physical buttons provide feels a lot better. In case you are wondering, emulators are supported. Another thing you can do with iMpulse is to trigger your camera shutter, so no more need to fiddle with your smartphone's built-in camera timer. And if that's not enough, iMpulse can also control media playback remotely. Not bad for a gadget small enough to work as a keychain. Speaking of which, a dedicated app allows you to locate the device, and therefore your keys, should you happen to misplace them.
Since the iMpulse project has collected the necessary funding, it will be turned into a commercial product. And in case you want to pre-order one today, just head to Kickstarter and pledge. A single iMpulse wireless controller costs $30, while $55 will get you a customized unit with a metal finish and a T-shirt.
source:
Kickstarter