MeeGo demoed on a tablet
6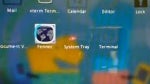 Just as promised, Nokia will be
improving on Symbian
, and keep the "wow" factor for
MeeGo
, which is becoming the de facto playground for the company's user experience department. A new video has leaked, showcasing the MeeGo user interface on a tablet with the dubious name "PCsmart".
This is, of course, the basic user interface, without that
secret paradigm-shifting overlay
that is still a twinkle in the eye of Nokia's UI chief. He said last week that Nokia is looking to do with MeeGo what Microsoft did with Windows Phone 7 - introduce a slick, minimalistic interface, which would offer an extremely user-friendly experience, and wouldn't require staring at the screen all the time. Instead, the phone should know where you are, and what you might be doing, and adjust accordingly. Interaction with the device would be kept to a minimum via an improved notification system.
We'll see what Nokia delivers in the end, but in the meantime, enjoy the basic MeeGo as it is, with the animated icons, and the Mozilla Fennec browser.
source:
MyNokiaBlog