Master your ambient and mood lighting with these 5 smartphone-controlled LED smart lamps
2
[Header image]

[Intro text]
Aukey Table Lamp
This a touch-activated lamp that's good for tabletop, bedside, and reading use. It works with color-changing LED lights, letting you set the mood for any occasion by choosing red, orange, yellow, green, blue, violet, and anything in-between. Tapping the base toggles between three brightness settings - soft, cool, and bright white light. The lamp can auto-cycle between 256 RGB colors, or you can select a fixed color that you like. The light has a simple and elegant design that lets it blend in almost anywhere.
Xiaomi Yeelight
Xiaomi's smart lamp differentiates between 16 million colors and color temperatures between 1700K and 6500K, enabled by high-quality LED lamp beads. The color brightness can be freely adjusted and the built-in Wi-Fi module enables long-distance control of the lamp using an app on your smartphone.
| | |
| --- | --- |
| Size | 11.2 x 5.4 x 4.9 inches |
| Battery | No |
| Connectivity | Wi-Fi, Bluetooth |
| Water & dust resistance | No |
Mipow Playbulb
This light supports up to 16 million RGB colors and 4 preset effects – pulsing, rainbow, fading, and flashing. A smartphone app controls brightness, colors, effects, and timer configurations. Up to 5 spheres can be controlled per group, enabling a comprehensive lighting plan. There's also the novel Shake Control option, which lets you shake your phone to change colors. Additionally, the lamp itself lets you tap it to change colors or turn it on/off. The device features a built-in 700mAh battery and includes a wireless charger that fills it up in three hours. If that's not enough, there's the timer settings that lets you set a timer from the app to turn the lamp on and off at preset time and color – waking up or going to bed to your favorite hue.
| | |
| --- | --- |
| Size | 5.00 x 6.00 x 6.00 inches |
| Built-in battery | Yes |
| Connectivity | Bluetooth |
| Water & dust resistance | Yes (IP65) |
Mipow Playbulb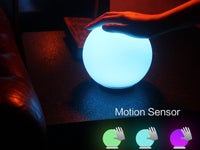 Elgato Avea Flare
The Avea lets you unwind with dynamic moods and subtly changing lights. The battery-powered, wirelessly charged LED lamp can light up any place for more than 8 hours on a single charge, and features IP65 water resistance so it can be safely taken outside. Bluetooth connects the Avea to your iOS or Android phone for control. There's even
Apple Watch
integration, so you can set the lighting from your wrist.
| | |
| --- | --- |
| Size | 6 x 6 x 8.7 inches |
| Built-in battery | Yes |
| Connectivity | Bluetooth |
| Water & dust resistance | Yes (IP65) |
Elgato Avea Flare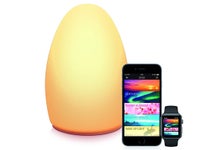 Notti LED Smart Mood Light by Witti
The Notti uses high-powered, 16 million-color LEDs which means you can find any color that matches your mood. The lamp can receive notifications from your iOS or Android smartphone, displaying a flashing customizable color upon receiving phone calls, calendar alerts, text messages, emails, and social media updates. Select your favorite song and the Notti will pulse to the beat in a single or multiple changing colors. You can also group four lamps and simultaneously control colors and have them in sync with the music you are playing. Like most smart lamps worth their bulbs, this one too works with your smartphone alarm to deliver a comforting light as you are waking.
| | |
| --- | --- |
| Size | 6.7 x 4.7 x 6.7 inches |
| Built-in battery | Yes |
| Connectivity | Bluetooth |
| Water & dust resistance | No |
Notti LED Smart Bulb Light by Witti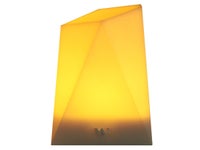 ALSO READ