Malls will not track your whereabouts this holiday season after all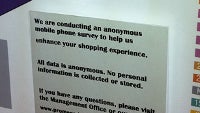 We recently shared with you a story about an innovative way for malls to
analyze their customers' shopping behavior
throughout the holiday season. In a nutshell, the system consisted of antennas located on the premises of the building that were meant to track a shopper's movement by picking up the signal emitted from their cellphone.
However, after launching the aforementioned tracking technique on Black Friday, a couple of U.S. malls – Promenade Temecula in Southern California and Short Pump Town Center in Richmond, have already decided to shut it down due to privacy concerns that were raised over the weekend. And the reason behind this is a statement that New York senator Charles Schumer made during a press conference on Sunday:
"A shopper's personal cell phone should not be used by a third party as a tracking device by retailers who are seeking to determine holiday shopping patterns," "Personal cell phones are just that – personal. If retailers want to tap into your phone to see what your shopping patterns are, they can ask you for your permission to do so."
The system was supposed to be up and running until New Year's Day, and customers were notified about its presence via small signs located throughout the mall. However, the only way for shoppers to refuse participating in the survey was to shut their cellphones down.
So, it seems like you will be able to roam your local shopping mall without being worried about Big Brother looking over your shoulder. Or could all these privacy concerns be simply exaggerated since all data was supposed to be collected anonymously? Feel free to share your thoughts in the comments below.