Magic 2015 Duels of the Planeswalkers hands-on
3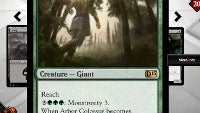 There's a cult following with the trading card game Magic: The Gathering, one that has spawned a legion of diehard fans that don't mind playing the old fashion way – sitting down at a table or bench, dealing out the cards, and going right into it. Well, for those who are itching to see the next incarnation of this popular game, it's worth mentioning that for this year, Wizards of the Coast is bringing Magic 2015 – Duels of the Planeswalkers, to the mobile scene.
In this latest installment, you'll be able to play against opponents through an iPad, Android devices via Google Play, and even the Kindle via the Amazon Marketplace. Aiming for a summer release, Magic 2015 Duels of the Planeswalkers transports players into the center of the action on your preferred digital device, where you'll be able to engage opponents in a whole new way.
Considering that this is a card game, it shouldn't surprise anyone to find the game mimicking the style, look, and execution you'd experience from playing the game traditionally. On screen, new features like the ability to build customized decks, allow players to interact in a totally new way. Throw in new booster packs with premium downloadable content, and an even more robust deck builder, players will have an endless amount of time trying to defeat the fiercest warrior in the Magic kingdom – Garruk Wildspeaker, the deadliest hunter in the Magic Multiverse.
Newcomers might have a tough time trying to grasp at the gameplay, but if they have enough patience to learn all of the game's intricacies, the battles will become even sweeter and more enjoyable. Naturally, veteran players of the usual card game will easily comprehend the gameplay and fit in right away. You can check out our quick hands-on look at the game, which will land this summer on the aforementioned platforms and devices.