MLOVE workshop aiming to be the TED for Mobile, releases its first annual report
1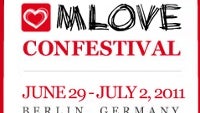 The MLOVE annual event is somewhat of an underground
TED for Mobile
, focusing around ideas, future disruptions and personal experiences, but put in common terms it looks like a three-day workshop focusing on the mobile industry. But it tends to look at things from a wider perspective and touch on global issues and our future as its affected by mobile devices. It's also different than other similar events – held in an 18th century castle and Germany and housing 250 attendants, it's much more
personal
.
It kicked off as an international gathering of people passionate about tech in 2008 only to evolve to this year's event including inspirational keynotes by speakers like Thomas Goetz, Executive Editor of Wired Magazine, health-centric topics covered by Adele Waugaman of the United Nations Foundation and Grammy Award winning Musician Chamillionaire sharing what was the impact technology had on his music.
It also voices the ideas of European teenagers with its
Teen Camp
program. But while not all of the might come into reality, you are free to take a peek at the inspirational future drawn by MLOVE presenters by downloading the workshop's first annual report, checking out the keynotes and sharing your thoughts on them in the comments below.
source:
MLOVE annual report
,
MLOVE at Vimeo