Lots of Nexus 5 boxes pictured in an LG distribution center
11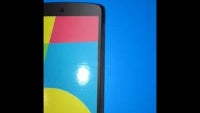 We haven't heard anything about the official announcement or release of the Nexus 5, but we are seeing new pictures from Canada that prove the device is getting ready to ship out to carriers and retailers. Someone was able to get pictures of piles and piles of Nexus 5 boxes ready to go in an LG distribution center in Canada.
Word has it that Carphone Warehouse in the UK has received shipments of the Nexus 5, and these new pics from user "Junior Mint" on a NeoGAF message board show what appears to be a number of pallets of boxes filled with Nexus 5 handsets. Of course, we say that's what it appears to be because there is really just one Nexus 5 box that is visible, and all of the other boxes are basic brown with illegible packing slips on the sides.
So, we can't really confirm that these are all Nexus 5s, nor that the pics are actually from an LG distro center, but we're willing to believe because that one box does look pretty real.