Look out, Apple and Samsung, Huawei's Honor 6 invades Europe at half the big brands' price
58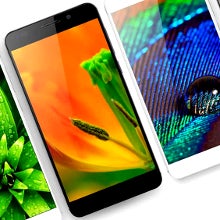 Huawei is rebranding itself for European purposes, opening up its own online retail presence there, and will sell its smartphones simply under the Honor brand. Starting with the excellent
Honor 6
, Huawei is trying to establish presence with great value for the money - the handset features a svelte 7.5mm chassis, 5" 1080p display, octa-core processor, 3 GB of RAM, 13 MP rear and 5 MP front cameras, with a healthy 3000 mAh battery to back it all up.
How much will Huawei sell the Honor 6 for in Europe? Well, starting tomorrow, Amazon's and other retail channels there will be stocking the handset for just £229 in the UK, or €269 elsewhere in Europe.
That's roughly half the price of what brand-name flagships with similar specs go for there, so the Honor 6 might have a bright future ahead indeed. Lenovo already established presence in Europe with important online and brick-and-mortar retailers, now Huawei, and if Xiaomi follows suit, then Samsung, LG, Sony, and even Apple, might have to pay more attention, if they want to keep their margins intact.