Logitech FabricSkin Keyboard Folio is an iPad cover on the intersection of practical and fashionable
3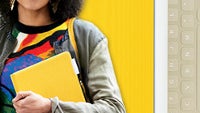 Logitech has just introduced a new iPad keyboard cover, the FabricSkin Keyboard Folio, a stylish fashionable accessory with the practical twist of a stand and a keyboard. The Logitech FabricSkin Keyboard Folio comes in a variety of colors like Mars Red Orange, Carbon Black, Mystic Blue, and Sunflower Yellow and the materials used are fine-weave, high-quality cotton on the inside and matte leather on the exterior.
The Folio also doubles as a stand so that you can place your iPad on your lap and type away on the keyboard. And speaking of the keyboard it resembles a bit the one on the Microsoft Surface tablet. The cover snaps to the iPad using magnets and automatically locks up the device when you close it.
Battery life for the Logitech FabricSkin Keyboard Folio stands at three months and you can charge the cover via a standard USB connection. The Folio is designed to work with Apple iPad second, third and fourth generation and costs $150.
source:
Logitech