Liveblog: Apple's announcement of the iPhone 6
55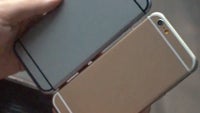 Today is the day for tech enthusiasts around the world, as Apple is to hold a wildly-important press event. Why so important? Well, simply because the Cupertino giant is to announce the new iPhone 6 with 4.7" screen - a hugely-influential phone that will surely serve as inspiration for other smartphone makers through the following year. Not only this, but Apple is also rumored to announce an even bigger new iPhone - one with a 5.5" display. To top it off, a smartwatch made by Apple, codenamed the iWatch, is also said to be among the new products the company is to unveil. For the full list of rumors about the iPhone 6, just check out
rumor round-up
. If you're also interested in the iWatch, here's a
rumor round-up
for it as well, so that you can get up to speed prior to the start of the event!
As it is the case with such important events, people interested in technology want to be part of the whole unveiling by watching live, as executives from the company come out on stage to talk about the various aspects of the new device. If you would like to watch the livestream of the event, just
head this way
. However, if the current situation suggests a more discrete approach to following the event live (or you simply don't want to watch video), you can always enjoy the liveblog we'll be hosting for you! Found right below, our liveblog will constantly post text and image updates so that you can keep track of the announcement as it happens.
Event Start Time: 1 PM ET | 12 PM CT | 11 AM MT | 10 AM PT | 5 PM GMT | 7 PM CET