Limited Edition Samsung Galaxy S10+ won't be available in early March
5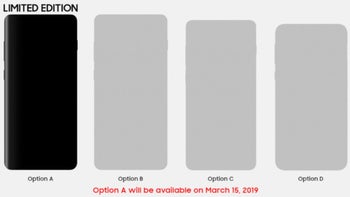 Samsung's next Galaxy S flagships will be officially unveiled on February 20, but the smartphones won't be launched on the market until March 8, rumor has it. However, customers will be able to pre-order the phone(s)
right after the official announcement
and up until March 7.
There's one problem though that we've only learned about recently. It appears that one of the
Galaxy S10
models won't be available on the market until March 15, one week after the other three models.
Samsung Philippines'
pre-order page
confirms that the Limited Edition Samsung Galaxy S10+ will only be available on March 15, 2019,
XDA Developers
reports. This specific model is expected to be the most expensive Galaxy S10 variant since it comes with no less than
1TB internal storage
and 12GB RAM.
The pre-order page doesn't say anything about the other three models – Samsung Galaxy S10, Galaxy S10+, and Galaxy 10e, but we have no reason to believe they won't be available on March 8, just like we previously reported.
As far as prices go, the Limited Edition Samsung
Galaxy S10+
is expected to sell for around $1,500, while the other three models will be priced at $1,000, $900 and $750, respectively.
Recommended Stories