Need a new rugged Bluetooth speaker? Try the LifeProof Aquaphonics
2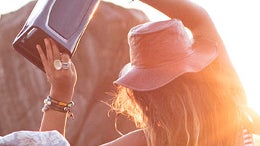 LifeProof
, maker of high-quality protective cases for many mobile devices (including Samsung's Galaxy S8), today announced its very first family of Bluetooth speakers. Called LifeProof Aquaphonics, the series includes three portable speakers of different sizes: Aquaphonics AQ9, Aquaphonics AQ10, and Aquaphonics AQ11.
All three speakers are protected against dust, snow, and water, being able to withstand submersion in up to 3.3 feet (1 meter) of water for up to 30 minutes. The speakers are also drop-proof - up to 4 feet (1.2 meters) - and have built-in microphones for speakerphone capabilities. Moreover, they can be paired with up to 8 Bluetooth devices at once.
Priced at $99.99, the Aquaphonics AQ9 is the smallest among LifeProof's new accessories. It features a carabiner (so you can easily attach it to bags or backpacks), and up to 16 hours of battery life.
Larger than the AQ9, the Aquaphonics AQ10 costs $199.99, and offers up to 13 hours of battery life. This speaker can float, and includes a dry box to store your keys, cash, or cards.
Last but not least, the Aquaphonics AQ11 is obviously the largest of the bunch, and delivers the richest sound. Costing $299.99, the AQ11 features a dry box large enough to fit your smartphone, plus cash and cards. Oh, and it floats, too.
The LifeProof Aquaphonics series is available in the US exclusively at Best Buy (both in stores, and online). For now, only the AQ9 and AQ10 can be ordered, with the AQ11 coming sometime soon. Any buyers here?
sources:
Best Buy
,
LifeProof