Moto G4 and G4 Play make their way to Consumer Cellular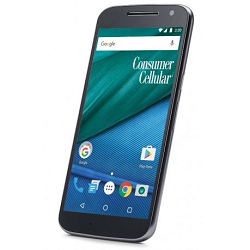 If you're trying to save some cash with your monthly phone bill, you're more than likely a customer to a pre-paid smartphone plan. These pre-paid plans are found with companies like Cricket Wireless, MetroPCS, and Boost Mobile. Consumer Cellular also falls into this category of pre-paid service providers, and although they may not be one of the most well-known providers out there, they still have a host of affordable plans to help you save as much as you can. The service is clearly targeted towards folks who don't use a lot of mobile data, and if you happen to be a customer for Consumer Cellular or have been thinking about making the switch soon, you'll be happy to hear that both the
Moto G4
and G4 Play are officially making their way to the carrier.
Both of these smartphones are quite affordable, but the Moto G4 is the beefier and more powerful of the two handsets. As a quick recap, the G4 features a 5.5-inch 1080p display, 13MP rear-facing camera, Snapdragon 617 processor, and a 3000 mAh battery. As for the G4 Play, that handset packs in a 5.0-inch 720p display, 8MP rear-facing camera, Snapdragon 410 processor, and a 2800 mAh battery. Both phones come equipped with 2GB of RAM, 5MP front-facing cameras, and a near-stock version of Android 6.0 Marshmallow.
Consumer Cellular is selling the
Moto G4 for $150
and the
G4 Play for $100
. That's a savings of about $50 for both handsets when compared to their standard pricing on Motorola's website when bought unlocked, so if you were already planning on getting one of the phones and being a customer of Consumer Cellular, you're looking at some pretty nice savings.