Leaked OS 4.7.0.131 for BlackBerry Storm 9500

We
reported
just a few days ago that Verizon was expected to send an OTA firmware upgrade (version 4.7.0.113) to owners of the BlackBerry Storm 9530 in a matter of weeks. Thus far the upgrade has not been disseminated. However, Canadian carrier Bell offered an official upgrade in the form of build 4.7.0.122. Big Red customers could download the OS, but would do so at their own risk despite it being an official firmware update for Bell customers.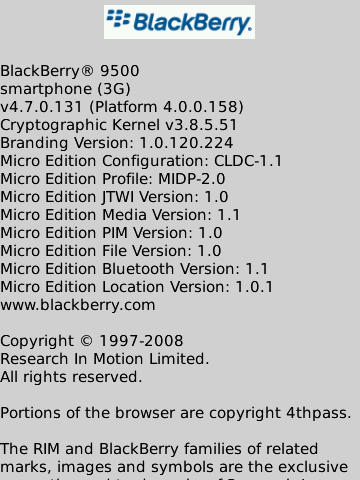 While users of Verizon's version of the first touchscreen 'Berry continue to stew, another leaked OS was been found but it is for
the 9500
model of the Storm. The version is 4.7.0.131 and since it is not coming from an approved source, downloading it on your 9500 could result in damage to the phone and the warranty could become invalid. Reports from those who downloaded the leaked firmware say that the issue the phone had with washed out colors has not been fixed, but the accelerometer is fast and sensitive. In the meantime, U.S. Storm users can wake up every morning hoping that today will be the day that they will get to use that QWERTY keyboard in portrait mode. Almost everyone who has upgraded their Storm with a leaked OS have said that the higher builds have made the device feel like a whole new phone.
BlackBerry Storm 9500 Specifications
|
Review (9530)
source:
CrackBerry