Latest video of Windows 8.1 in action goes over new tweaks and improvements
26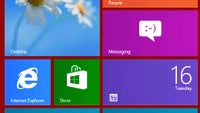 Wondering if the "Start" button will ever return to Windows? Well, looks like that isn't going to happen, or at least not in the upcoming version of the popular operating system. Actually, not a whole lot seems to have changed in Windows 8.1, which has just been leaked in an early form. There are a few improvements, however, that should be pointed out.
As you'll see in this video of Windows 8.1 build 9369 in action, the apps list can now be accessed by clicking on a new button located in the lower right-hand corner of the Start screen – a minor tweak that users on non-touchscreen devices will appreciate. And speaking of the apps list, the apps can be organized depending on how often they're being used. So for example while the most frequently used apps will appear at the beginning of the list, the ones that are barely ever opened will be listed last.
Furthermore, the UI has undergone some changes, and we're not only talking about new transitions and animations. The multitasking interface, in particular, now allows the screen to be divided in half while the user can pick the side of the screen where they want each additional app window to be placed. Also, the Files application, which is used to browse through the computer's storage from within the Modern interface, has been fused together with the SkyDrive app.
There's even more improvements coming with the new Windows 8.1 update so check them out in the video below. And in case you're wondering when the new software version is coming out, a public beta should be out by the end of June.