Latest specs and design rumors for the Pixel sequels are right here, right now!
50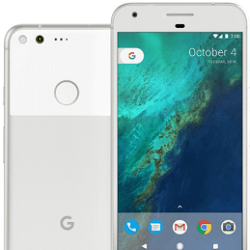 Just the other day, we told you that
system files on the HTC U11 revealed information about the Pixel 2 and Pixel XL 2
. These would be the sequels to the original
Pixel
and
Pixel XL
models. Today, XDA Developers revealed that it spoke with a source that claims to have had some hands-on time with at least one of the new models. Let's start with the "Walleye," which is the code name for the Pixel 2 unit.
According to the source referred to by XDA, the screen on the Pixel 2 (Walleye) will weigh in at 5-inches like the original, carrying a 1080 x 1920 resolution screen. The Pixel 2 is said to look very much like the OG Pixel down to sporting the same size bezels. The Snapdragon 835 chipset is under the hood, with 4GB of RAM and 64GB of native storage. While the 3.5mm headphone jack is going 'bye-bye,' there will be stereo speakers on the model.
XDA's source says to expect a second, larger screened model codenamed Taimen to be the premium Pixel unit this year. This handset will feature an LG-made 6-inch OLED screen with a resolution of 1440 x 2560. Smaller bezels surround the display, and powering the unit is the Snapdragon 835 SoC. 4GB of RAM is inside, and there is 128GB of native storage offered. The back will still have the metal and glass seen on the original unit, but this time the glass won't cover the fingerprint scanner. A single camera will be on back, and this model will have a 3.5mm headphone jack.
One last piece of information leaves us ready to rev up the Mystery Machine and round up Scooby, Shaggy and the rest of the gang. The source says that on the larger Taimen model, the pre-production software used the name "Nexus Imprint" when referring to the fingerprint scanner. On the Walleye, the settings for the scanner called it "Pixel Imprint." We're not sure what that means, but we should find out when the new Pixels are unveiled as soon as September. Stay tuned!
source:
XDA