Latest figures show Samsung passing Motorola for largest OEM market share in the U.S.
0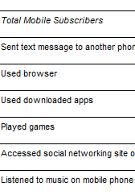 Data from analytics firm comScore shows that at the end of April, 234 million Americans over the age of 13 owned a cellphone. If that huge figure was represented by a pizza, the number one manufacturer of handsets in the U.S. owning the largest slice of the pie is Samsung with a 22.1% share. The company leapfrogged Motorola and fellow Korean manufacturer LG to take the top spot over the three months ended in April. For the three months ended in January, Motorola was the leader with a 22.9% slice of the pie. The Schaumburg, Illinois based company dropped to third in the latest survey with a 21.6% share, just behind the 21.8% slice owned by LG. Below Motorola is RIM with an 8.4% stake and Nokia rounds out the top five with an
8.1
% share.
When it comes to market share of the carriers, there is no surprise here as Verizon remains the top carrier in the U.S. for the three months ending in April with 31.1% of the market, down a tad from 31.2% as of the end of January. AT&T remains second while T-Mobile and Sprint continue their tie for third place. Tracfone rounds out the top five. So what do people like to do on their handset? Texting is done by a whopping 64.6% of cellphone users. 31.1% use the browser and 29.8% download apps. Playing games, visiting a social networking site and listening to music were done by 22.4%, 19.9% and 13.8% of those with handsets respectively.
source:
comScore