Latest Apple iPhone 8 dummy created to show a "live" look
45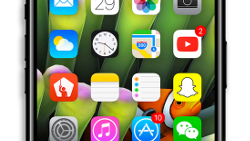 The most recent news about the 10th anniversary Apple iPhone that has been dubbed the
iPhone 8
, are the images and videos showing so-called "dummy models." These aren't the dummy units that you might find at Best Buy. These are creations put together from leaked schematics and other rumored information. Benjamin Geskin, who has created a number of iPhone 8 renders that have captured the attention of many an iPhone fan, has created a dummy model showing what he believes the device will look like when it is turned on.
To create this look, Geskin posts on his Twitter account (@VenyaGeskin1) that he took one of the aforementioned dummy units created from schematics said to have come
from an insider who works at Foxconn
. Using a printed photo and a leaked iPhone 8 screen protector, he created what might be the closest thing at the moment to holding a working iPhone 8 in your hands.
This iPhone 8 dummy shows off the edge-to-edge screen marred only by the black sensor bar that iPhone fans hope is just a bad dream (or a bad guess). Since we can't see if there is a button on back, this dummy unit really doesn't tell us where Touch ID will lie. Option "A" for Apple would be to embed it under the front screen. Option "B" would be to place a Touch ID button on the back of the phone, far enough away from the dual cameras as to keep wandering fingers from smearing the glass on the camera lenses. Option "C" would be to eliminate Touch ID completely and use a face recognition system that could do everything Touch ID does. Another possibility recently discussed would be to place the entire fingerprint sensor technology under the front screen, and
allow it to continuously verify the user's identity
.
As we get closer to the expected September unveiling of the 2017 iPhone models, we seem to get a little more sophistication with the leaks. The unveiling of the iPhone 8 is arguably one of the most important in the history of the device. Keep checking in for the latest.
source:
@VenyaGeskin1
,
BGR