Last day of Google's app promo: Apparatus, Sentinel 3 and others
16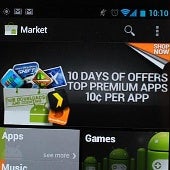 All good things come to an end, and this last 10 days we've had plenty of good things. Good and cheap - Google has been celebrating
10 billion downloads on the Android Market
.
That was the exact occasion why it has been slashing prices on some of the finest apps on its app catalog 10 days in a row.
Today is the last day, and here are the last 10 titles cut to a mere dime:
If you hurry up, you probably can still catch some of yesterday's 10-cent apps. They still show as discounted on the Android Market:
So, this means it's time to look back at all the awesome apps Google has offered so far - which ones did you get and which ones did you like the most? Don't hesitate to share with us in the comments below.