LG infographic reveals how Americans use their smartphones
10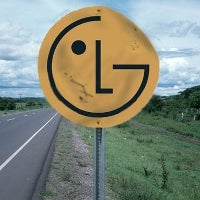 Korean OEM LG currently produces two of the hottest Android phones available. The
LG G2
, with its high-end specs, thin bezel and uniquely placed volume/power buttons, is on the short-list of most Android phone buyers. And the
Nexus 5
needs no introduction as the stock Android handset is generating strong demand.
LG has just released a report that takes a look at how, when and where Americans use their smartphones. And to make the dry stats more interesting to read, LG has produced an infographic that reveals the results of its survey. We all know how revered smartphones are in the states. 48% of Americans said that they would have no problem using their handset in a house of worship. Believe it or not, 77% would use their smartphone while in bed with another person. Ironically, while more than 3 out of 4 would use their smartphone while in bed, only 28% would use it while out on a date.
"Smartphones have quickly become the modern day tool that most of us just can't live without. With major advances in mobile technology in recent years, smartphones have gone beyond their original intent as a primary communication tool to become true life companions for everything from social situations to our most personal moments. In addition, because of today's increasing demand for more sophisticated devices, it is more important than ever that smartphones, like the new LG G2, provide consumers with the features that enrich their mobile lifestyle."
-James Fishler, senior vice president, marketing, LG Electronics USA
Before smartphones, people used to bring a newspaper or a book into the bathroom when nature called. LG's survey found that 75% of Americans would have no problem using their smartphone while on the potty. LG also found that 58% of smartphone owners use their device while out with family and 62% use their device while out with friends. The survey was answered by 1152 Americans age 18 or older. 20% of those who answered it said that they would not try to hide that they were using their phone no matter what the situation was. 48% have used the camera on their device to snap "
shocking pictures
" and 36% admit to taking "
selfies
". LG didn't ask how many photographed "
shocking selfies
".
Want to see what your stateside friends, family and neighbors are doing with their smartphone? Check out LG's infographic below.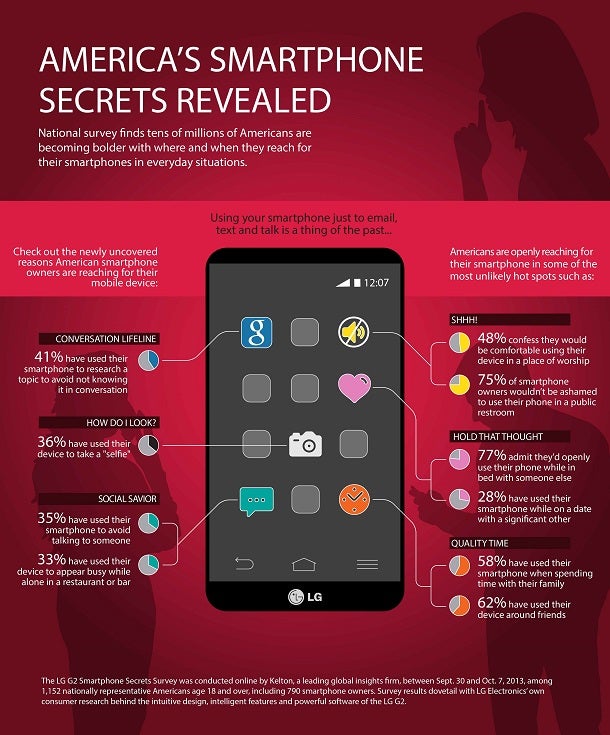 source: LG via
IntoMobile