LG confirms a G Flex 2 and Vu 4 launch for the second half of the year, is mum on specs
4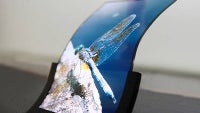 Parallel to the
grand G3 unveiling
yesterday, LG held a press conference on its home turf, during which it announced that indeed we will see a G Flex 2 coming in the second half of the year, as well as an LG Vu 4.
We've been hearing that
LG preps a Flex 2 sequel
for launch in early 2015, but now that rumor gets an official confirmation, and the timeframe is getting pulled forward. The current
LG G Flex
sports a 6 inch, 720 x 1280 resolution flexible OLED display, resulting in a 245ppi pixel density. Given that the current crop of top-shelf phones is at 1080p, and LG even outed a Quad HD handset with the
G3
, it might be safe to assume that a higher screen resolution will be in store with the G Flex 2. As for the rest of the features, we've only heard there will be something more "unique" than the self-healing back, but what exactly would this aspect be, remains a mystery so far.
As for the Vu 4, we'd wager to bet that the funky aspect ratio that comes with the other phones in the Vu line will be kept, and that's all that can be predicted on the matter. LG itself didn't shed more light on the eventual specs of the G Flex 2 and the Vu 4, just confirmed that they are indeed coming in the second half of the year.