LG announces levitating, waterproof Bluetooth speaker headed to CES 2017
2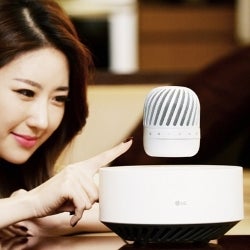 It's white, it looks like it belongs in the interior of a space station, flies and pumps tunes – meet the new LG PJ9, a levitating Bluetooth speaker that the company will be showing at CES in Las Vegas next week.
Featuring two passive radiators for a better balanced sound, the PJ9 boasts a 10-hour battery life and gets propped up in the air via magnetic force. Once the battery runs out, the speaker will descend onto the magnetic dock (which is designed as a woofer station) and start charging wirelessly. Adding to that, the speaker is waterproof and good for up to 30 minutes in water of less than 1 meter depth.
The price and release date for the PJ9 are yet to be revealed. At CES 2017, LG will also showcase smartphones such as the Stylo 3 and refreshed K-series models. The new K series includes four mid-range models – the K10, K8, K4, and K3. A couple of months later, the company is expected to present its next major smartphone, the LG G6.
ALSO READ